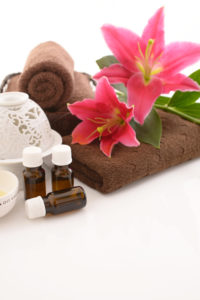 Welcome to the Breathe and Bloom Blog!!!
I started using Essential Oils at Breathe and Bloom just over 4 years ago when I was taught the Aromatouch Technique which is a clinical approach to essential oil application. I had heard wonderful reviews that the oils helped people with calming their emotions and well-being.
I then started to make up Bespoke Essential Oil Roller-Balls for myself and kept getting requests asking where they could get the oils or could they bring them home. I then decided to get more oils as the more I was finding out about the benefits both physically and mentally the more I wanted to try myself. I now have over 75 different bottles.
I am now so passionate about them that I wake up every morning looking forward to making new blends for some of my clients that can help them physically and emotionally.
My aim is to get others as passionate about essential oils as I am so you can be empowered, which in turn will Transform and Empower your health, emotionally physically and spiritually.
What Are Essential Oils
Essential oils are liquids that have been distilled from leaves, barks, stems, roots, flowers or other parts of plants, using water or steam. Even though they are called oils, they do not actually feel oily. Essential oils are usually clear, although some are coloured, such as Lemongrass, Orange and Patchouli oils. These are highly concentrated liquids, which means that even a small amount goes a long way.
Before I started using essential oils I thought they were the same as fragrance oils but there is a major difference. Essential oils come from pure plant derivatives, whereas perfume oils are manufactured artificially or have some artificial substances. Because of this you would not get the same benefits from fragrance oils as you would have from essential oils. Essential oils have such an aroma and chemical composition that they can provide some essential physical therapeutic and psychological advantages to individuals.
Ways to use Essential Oils
There are a number of different ways in which people can use essential oils. Incorporating them into your everyday life can be beneficial in more ways than one.
The two main ways I use essential oils are aromatically & topically.
Aromatic application simply means smelling the aroma of essential oils to receive therapeutic benefits. It is a powerful way to affect memory, hormones, and emotions. It involves the olfactory system and helps manage mood and emotions.
Some ways to enjoy the aromatherapy:
Inhale directly from the bottle
Use an aromatherapy diffuser
Place a few drops on a diffuser necklace and wear around neck
Apply the bespoke blend on the palm of your hands rub together and inhale deeply
Use an nasal inhaler and use as and when needed
Topical application is an easy and effective way to enjoy the benefits that essential oils offer. Use them topically by applying them to the skin. You can apply to specific areas of your body to receive targeted benefits.
I also use a carrier oil when applying essential oils to my skin and this could be Fractionated Coconut oil, Almond or Jojoba oil.
Healing Properties of Essential Oils
Here are just a few of the healing properties of 5 different oils that I use on a regular basis. These have been known to support a lot of people with these issues.
Lavender – Depression, Panic Attacks, Insomnia, Stings and Sunburn
Cedarwood – Eczema, Psoriasis, Acne, Urinary Infections, Anxiety
Coriander – Joint Pain, No appetite, Low Energy, Itchy skin and Rashes
Geranium – Cuts and Wounds, Hormone Balancing, Emotional Balance
Vetiver – ADHD Focus and Concentration, Depression & Anxiety, Insomnia
I hope you have found this blog interesting and useful and would love to see any comments you may have.  If you would like more information or would like to work with me on a 1:1 basis either online or in person then I would love to hear from you.
All of my bespoke roller-ball blends are currently €15.00 each and when making up each blend I focus on the emotionally and physical symptoms of each person I work with. I also sell the diffuser necklaces and nasal inhalers.
Love Bernie